The winter tires question, this question has come up again, so here's your general primer. I've meant to do this for a while, because I keep typing out the same information over and over, and that's just silly. I'd planned on doing a more… spectacular… intro to the blog, but, hey. It's topical, as it's -936 degrees today.
So, you all know me, not only am I long-winded, but I'm *ahem* passionate about winter tires.
So, let's start at the top.
Why winter tires?
Modern all-seasons (referred to as "no-seasons" from her out) are primarily designed for fuel economy, and durability. People don't like buying tires, or doing automotive maintenance in general, so it's not unusual to see 160,000km life tires. Car manufacturers use tires to achieve corporate fuel economy averages too, which they require for national certifications.
What that means is, in the best conditions (warm, dry roads) traction (and therefore safety/control) is minimized in favour of cash savings. In bad conditions, those normally hard/durable/low-friction tires become the automotive equivalent of roller skate wheels. This is not conducive to turning, or stopping. We're less concerned about "going" because if you can't go, you can't get in an accident.
But everyone is primarily happy with never thinking about their tires, because they're now designed to adequately hold the car above the road, and never wear out. But that's about all they do.
What winter tires do is simple on the face of things. They stay supple and pliable when it gets cold. Very cold. They evacuate snow as necessary, but also grip and compound it, because what tire manufacturers have discovered is that what grips better than rubber, on snow, is actually snow. So you want that wheel of snow, held in by the gripping "sipes" on a tire, for snow traction.
When the road is cold, but clear, or cold, and icy, or warm, and icy, or warm and slushy, you want those tires to evacuate water/slush well, and use those sipes like fingers to grip the road (and they do, it's super cool to see in slowmotion/macro).
What does this all mean, for you, the driver?
Well, what it means is that you stop shorter (about 30ft from urban road speeds – 30mph/50kmh – on average), you have better control in terms of turning, better stability at speed, and all those add up to less chance of an accident. They're not a silver bullet, they still require you to be driving to the conditions, and be aware of what's going on, but they're another tool in your arsenal.
How do you choose them though?
Honestly, this is tough. My personal preference is an aggressive tread – I tend towards unstudded, but studdable, because they're designed for severe conditions. Cost is always a consideration, but should be less so.
Actually, lets talk about cost, as it's the primary reason people don't buy winter tires.
What you get, for your, say, $900 investment in winter tires, is further extended life of your no-seasons that you use from April until December – there's five months a year they're not rolling on the vehicle, which means they're extending their life. You should replace your tires every 5-7 years ANYWAY, but you can definitely stretch that if you have winters*.
And $900 is a reasonable amount. As a package, you can get (for a subcompact or compact car, at least) wheels and tires, installed and balanced for under $1000 CDN. Depends what you're driving. My F150 just cost me $1600 all-told, for wheels & tires.
There's the issue of on/off and storage, of course. A number of shops, now, will provide year-round storage for your off-season wheel/tire combination, and charge you a minimal fee to swap them at the appropriate time, with an appointment (don't expect to walk through to door in late November and them just to do it on the spot. You're going to have to wait. Days, likely.). But this is seriously convenient, for approx $50/swap, to have them out of your way, stored temperature controlled, and bolted on for you.
If you're like me, you store them in the garage, and swap 'em yourself, and save the fifty bucks. If you suddenly buy an F150, you buy a new jack for $350 because the two you have don't have the height extension to lift a full-size truck. But I digress.
If you have the tools, you can find the torque spec for the lugnuts in your owners manual (usually between 70lb.ft and 150lb.ft). Your tools are pretty simply a wrench, an appropriately sized socket, and a jack (and jack stands for safety), and an hour of your time in the driveway. Tire pressure is on the metal plaque on the inside of the drivers door (or in the owners manual) and doesn't change no matter what tires you have on the vehicle.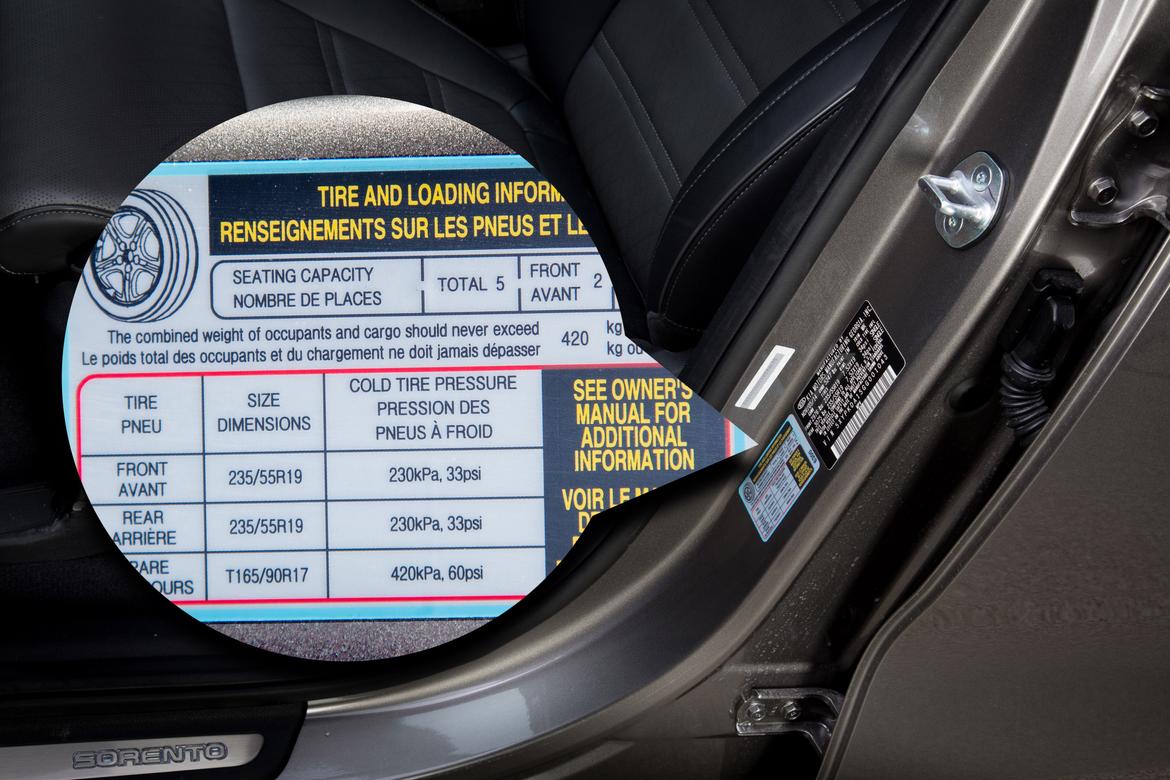 Ok, back to the tires themselves. I don't want to recommend anything specific, but you'll find the same names being popular when you ask, over, and over. Blizzak. iPike. Nordic WinterTrac. My own current General Tire Arctic Grabber.
Realistically though, you're looking for that previously mentioned pliable rubber, and aggressive tread:
Something like that. See the sipes (small, wiggly cuts in the treads?) and holes for the studs?
I'd also recommend getting the extra set of wheels (Steel for cost, alloy if you don't want to look like you have winters on). It's a time and cost saver in the long term, because you're not unistalling the tire from the wheel and reinstalling/balancing every season, at $15/wheel. General practice is to move down a size, as well (-1 sizing is the colloquial term) as the smaller wheels are cheaper, and the skinnier tires are also cheaper. The skinnier tire also cuts down through deep snow to the pavement, where your best traction is.
For example.
If you were buying winter tires for a 2017 Toyota Corolla CE the stock wheel/tire is 215/45R17**, with the 17" wheel option. A winter -1 option would be a 16" wheel, with 195/60R16.
//embedr.flickr.com/assets/client-code.js
A quick check of one of my go-to sites shows six winter tires with that sizing, ranging from $115.99/tire to $232.99/tire. My personal preference there would be the Yokohama IceGuard iG252c's. They've got good reviews, I like the aggression of the tread, and the price is right. That's without checking any other sites, which I would likely do.
//embedr.flickr.com/assets/client-code.js
But assuming those, that's:
//embedr.flickr.com/assets/client-code.js
Not bad at all. In terms of cost, the biggest issue is a] winter/steel wheels have gone up in price (they used to be about $50/each), and tax and shipping is $200. Otherwise, that's an $800 package (CDN), which is completely reasonable.
As to where to go, well, that's up to you, and your comfort level. There's no need for you to limit yourself to the Dealership you bought your car at, but they tend to do tires well these days, and they don't cost an arm and a leg, either. Most larger dealerships do storage-for-a-fee, as well, if that's something you need. Online dealers like, but not limited to, 1010tires.com are competitive, fast, and tend to have large warehouses. I've ordered with great success from both Quattro Tire (Quebec), and 1010tires (Vancouver, Toronto, Montreal). There are a lot of quality tire shops, as well, like Sipan, Kaltire, etc. Most of them will build a wheel/tire package to your liking, installed and balanced for one price, which takes a lot of pressure off you, the consumer. Just tell 'em what you want (stock size, -1 sizing, etc) and if you have a tire preference, let them know what it is. Shop around for packages, and you can generally get what you're looking for.
It's true that tires aren't cheap. But again, they're the four little pieces of rubber that stick your car to the road – they are the reason you can go, stop, and steer. This is not the place to cheap out. Oh, you can be smart with your money, and you can be frugal. But don't be cheap (and by that, I mostly mean, avoid Chinese crap, like GudYar***or the like). They are THE safety feature, beyond you, the driver. They're worth investing in to protect you, your family, and your investment in your vehicle. The least expensive accident claim is the one you're not in.
If you were expecting me to tell you what tires to buy? Not so much. But guidance, we can help with that.
*The issue is that rubber starts to degrade over time, whether you still have lots of tread or not. If you run a tire too long, the rubber gets hard, brittle, doesn't grip, and could just come apart. That's not pretty at 110kmh on the highway.
** for those who don't know, this is read as the width of the tire tread (215mm) / sidewall height (45% of the tire tread) / wheel size (17"). Any tire size that's difference needs to maintain the same diameter (not listed there) of wheel so as to maintain accuracy of your speedometer, and ABS/TCS systems. There's lots of tire-size calculators out there, I favour the one at 1010tires.com)
***Totally made that up, but Chinese knock-off tires are totally a thing, and they tend not to be terrible… for one season. Then, they suck as they start to wear, and you're unhappy (and maybe unsafe) for two or three more years. But you did save twenty bucks a tire, so, there's that, I guess?
~Mark